All warehouse managers know that it is never straight forward in managing operations for a warehouse facility. Warehouse operations managers need to ensure the efficient flow of products that is going in and coming out of the facility; optimize the building's layout; ensuring orders are fulfilled and products are not overstocked. On top of all these factors, warehouse operations managers also need to ensure profitability and minimizing labor costs.
It is not surprising that there are various articles and resources that outlines the best practices for warehouse operations as there are many factors to balance, considerations to weigh in every decision, pressure from stakeholders to be more productive, minimize expenses and maintain a smooth supply chain flow.
The Popular Best Practices
1. Treat cycle counting as a quality assurance test
To ensure an accurate inventory records, it is important to keep a careful tracking of in and out transactions. Cycle count plays an important role in assuring that there is a sufficient inventory-tracking process; regardless these transactions are done by system or manually.
2. When error found, investigate the discrepancy
Firstly, check for computation errors. Secondly, make sure that stocks are not mistaken for a similar product. Thirdly, conduct a stock count again to reconfirm. Fourthly, check for misplaced products especially when products and packaging are very similar to each other as the possibility of misplacement is high. Then, ensure that the unit of measurement are consistent. Lastly, verify outstanding orders that were invoiced but not yet picked. Usually, after all these checks, there should not be any discrepancy left.
3. Make changes to warehouse management procedures
By minimizing the steps in the process, the operations will have a more rapid and smooth movement through the warehouse and the freight process. Introduce and use a transportation management system for a more efficient flow around the warehouse. Implementation of technology such as ERP or WMS is important when it comes to storage facilities and storage solutions.
4. Increase accuracy to near perfection
By increasing the accuracy to near perfection, a warehouse then can run efficiently and meet the goal of having minimum inventory to fulfill customer's demand quickly and not be overstocked with expensive and unnecessary inventory. It can also prevent the organization from having cashflow turnover issue as unnecessary inventory would also means goods not sold.
5. Integrate ASRS and WMS system
With the integration of ASRA and WMS, it allows the warehouse to increase storage capacity and to automate a part of the pre-staging for shipments. The amount of pre-staging done by automated warehouse is approximately one third of time used compared to two third of time used by the conventional warehouse. Management can make use of the time and manpower for other duties to increase productivity.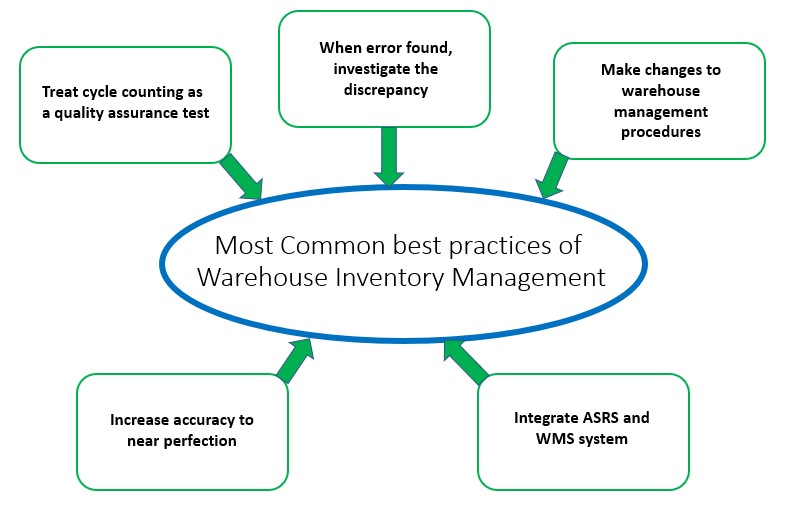 Benefits of Pro-active Cycle Counting
A well-executed cycle counting program provides a lower operating cost, improved service level, accuracy of shipping and lower inventory level. There are many reasons to conduct an annual or bi-annual physical inventory.
• Maintaining higher levels of inventory accuracy throughout the year. During the peak period, there would not be any Out of Stock scenario and eventually impacting on the sales or hurting the organization's reputation.
• Discrepancy identification allows for root cause identification and elimination.
• Elimination leads to higher inventory accuracy than yearly counts.
• Eliminates requirements of shutting down the entire warehouse to do a wall to wall physical inventory. To conduct a wall to wall physical inventory count, time and manpower are sacrificed and disrupted, therefore leads to inefficiency.
There are a few key drivers that will help in achieving reduced costs and improved service level.
• Elimination or reduction of handling that occurs when discrepancy is encountered.
• Elimination of cost and service disruption resulting from wall to wall physical inventory.
• Elimination of lost sales due to shortages or wrong location storage, out-of-stock situation when the system shows available stock.
• Ensuring identical products ordered and shipped to the customer.
• Enabling low safety stock level, inventory reduction and lower inventory carrying costs in the distribution center.
Keeping Low Stock Level
Achieving profitability is the ultimate goal of every business. Businesses improve profitability by increasing income or decreasing cost from carrying inventory. Keeping inventory low can have several positive and negative impacts. One of the primary cost that is common in most organization is the cost of storing goods before selling them. Keeping inventory level low limits storage space, which can cut down storage related cost. Other cost associated with keeping inventory are the high potential for spoilage and damage that can destroy inventory and causing the inventory to depreciate. An example; keeping inventory passed their expiry date hence rendered redundant inventory. Keeping low inventory level can lead to high shipping costs and other organizational costs. For example; if a company runs out off high demand products, it might have to pay premium cost for fast shipping to meet customers' and end consumers' demand.
Implementing Quality Control
Many organizations see the introduction of Quality Control processes as an unwelcome change. Overcoming this reluctant change will require consistent communication and a constant eye on the big picture. Some points on how to ease this reluctancy are as follow:
• Always monitor closely the risk that might occur from your project development.
• Believing in your target and focusing on the benefit that will be brought to your organization.
• Always source for sponsors or experts in your company. Try to lower the hurt on the company's budget as much as possible.
• Always be rational and calm when challenges are being met. Form a task force group to discuss and tackle the challenges.
• Break down obstacles into manageable steps and keep everything in perspective.
Optimization Strategies
Organization need to embrace personalization and optimization to improve conversion, retention and average customer spend. By integrating optimization more tightly into the business strategy, organization will transform customer's experiences and deliver additional revenues to the business.
In conclusion, there are various methods and careful planning needed during the period of strategies selection that are most suitable for your organization. Upon selection, implementation and changes are the most critical period as reluctancy to change might occur within the organization and the warehouse.
---
References:
Eft.com (2017). "5 Fundamental Practices to Make the Implementation of Warehouse Technology Pay off Big Time – Supply Chain & Logistics Business Intelligence". Retrieved from https://www.eft.com/3pl/5-fundamental-practices-make-implementation-warehouse-technology-pay-big-time
Storeman HQ. (2017). "12 Common Causes of Discrepancies and How to Deal with Them". Retrieved from https://storemanhq.wordpress.com/2016/09/13/45/
Dummies.com (2017). "Implementing Quality Control Standards: How to Overcome Organizational Reluctance". Retrieved from http://www.dummies.com/careers/project-management/implementing-quality-control-standards-how-to-overcome-organizational-reluctance/
Muir, C. (2017). "6 Tips to Improve Inventory Accuracy". TEC BLOG POST. Retrieved from https://www3.technologyevaluation.com/research/article/6-tips-for-perfect-nearly-inventory-accuracy.html
RA, S. (2017). "Cycle counting: a quality assurance process". Retrieved from https://www.ncbi.nlm.nih.gov/pubmed/10339175
SAP ASRS (2017). "Automated Storage & Retrieval systems in Warehouse". Blogs.sap.com. Retrieved from https://blogs.sap.com/2016/03/31/sap-asrs-automated-storage-retrieval-systems-in-warehouse/