The warehouse storage system, also referred to as warehouse management system, is a process whereby we make use of warehouse storage equipment and planning the process to help facilitate the process of managing the warehouse storage, organizing and optimizing space for safe storage as well as safe being for logistics workers at the same time.
The importance of a warehouse storage system is essential to every logistics and workers, as well as owners and users. As mentioned above, the process helps to facilitate the flow of warehouse storage with efficient planning flow utilizing storage equipment and also minimizing the risk of work incidents that could be prevented with the proper warehouse planning system.
Planning and Adaptation
The first and also the most important key point of this process is planning. This step is critical to every warehouse owner or user because it will affect the flow of the warehouse process if there is very bad planning. Warehouse owners and users have to plan a forecast of their future stock level, the volume of their products so that they could decide what is essential for warehouse storage to store their forecasted stocks.
Sometimes, there may be times that there will be an error in forecasting future stock levels for warehouse users or owners. Another major factor that will also affect the process of this system is the layout process of the warehouse. Despite the planned forecast of the stock level, there will also be times of unseen forecasts due to the demand of consumers. In that case, warehouse users and owners will have to stock up their stock levels abruptly.
The layout of the warehouse becomes the key factor to meet the demand for a sudden increase in stock levels. The layout of the warehouse has to be versatile enough to store these unpredictable forecast stocks.
A mezzanine layout is beneficial in this case.
Pallet racking
The racking system plays the main role in warehouse storage. Having an organized racking system is essential for organized storage. Many products or stocks can be stored in the appropriate racking is used. Mentioned earlier on, warehouse equipment is utilized to ensure facilitate warehouse process storage. An example of an effective tracking system.
Push Back Racking System
It is pressured in shelves storage system consisting of inclined rail and carts with trolleys to store pallets and at the same time using the force of gravity to unload the pallets from the racks implementing the "first in first out" process. After the product is load onto the pallet on the pushed back shelve cart, the first pallet will be pushed into the back position to load the next pallet that is ready for storage until the last pallet that is stored at the front for easy access of unloading for picking.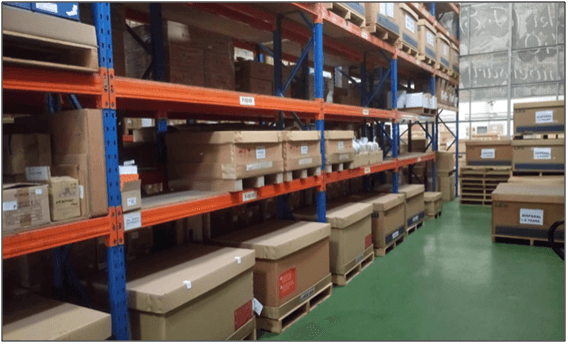 Push Back racking design is both versatile and functional to help reduce time consumption while retrieving pallets that are in rotatory directions. It is a high-density type of pallet storage system that offers much more selectivity compared to the drive-in rack system. This system helps stores and retrieve pallets from the same aisle using "last in and first out order" while making use of the push back rack that is ideally suited to facilitate the operations and storing a larger quantity of SKU (stock-keeping units).
References
Material Handling Hub, (2018). "Avoid Common Warehouse Mistake In The Receiving Area", Retrieved From:
https://www.materialhandlinghub.com/2017/07/21/warehouse-mistakes-receiving-area/, accessed20/12/2019.
Muhammad Hairul Bin Hassan, DLSM (2019). "Effective Warehouse Storage for Shipment Efficiency". Retrieved From SIPMM: https://publication.sipmm.edu.sg/effective-warehouse-storage-for-shipment-efficiency, accessed 18/12/2019.
Multi-Channel Merchant. (2019). "Best Practice In Material Handling And Put Away", Retrieved From:
https://multichannelmerchant.com/operations/best-practices-in-material-handling-and-put-away/, accessed 20/12/2019.
Syed Muhamad Faizal, DLSM (2018). "Five Essential Methods Efficient Warehouse Operation", Retrieved From SIPMM:
https://publication.sipmm.edu.sg/five-essential-methods-efficient-warehouse-operation, accessed 20/12/2019.
Unarcorack. (2018). "How Push Back Rack Work". Retrieved From
https://www.unarcorack.com/push-back-rack/how-push-back-rack-works/, accessed 20/12/2019.