Negotiation skills are an important part of doing business, especially in an increasingly competitive market. Both buyers and suppliers could make a deal that benefits both parties. Importantly, procurement negotiation requires parties to communicate and understand each other's expectation. Thus, this can reduce disagreements and enable a good working relationship between both parties.
Effective procurement negotiations build stable business relations, avoid conflicts and more importantly, work towards a win-win situation for profitable outcomes in both companies. Successful negotiations require preparatory research through intelligent and reasoned planning. Without negotiation planning, this is analogous to a company trying to fumble its way through a dark and unfamiliar room.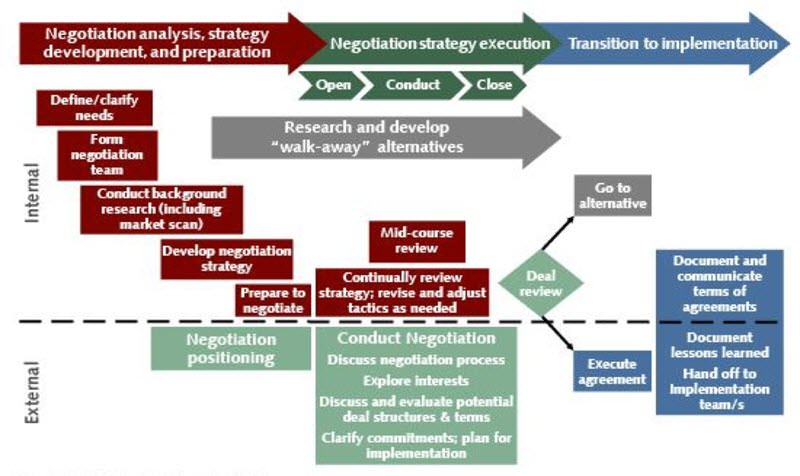 Below are six key steps to guide an approach for planning the procurement negotiation.
Step 1: Understanding why we need to Negotiate
Procurement professionals need to understand the purpose for negotiation, and this can be established through prioritizing and ranking our objectives. They should also attempt to follow the same process for the other party. This understanding should be based on all the intelligence that can be gathered about the other party. It may either be an estimation of their objectives, or a fairly reasonable guess. Likewise, there is also a need to rank and prioritize what is perceived as the needs and objectives of the other party. This first step enable procurement professional to consider possibilities about a potential and beneficial outcome for both parties.
Step 2: Planning for Effective Negotiations
After the negotiation objectives are prioritized, the next step is to work out the target point, and ensure that the target point is sufficiently high. Procurement professionals should not commence a negotiation before crystallizing mentally the ultimate objective.
Come Prepared
Before going into any negotiation, ensure that all variables have been considered which might arise. Should unexpected issues come up, stop the negotiations and appraise on the new issues before re-joining the process.
Information
It has often been said that information is power. The early phases of negotiation consist of both sides finding out more information before talking about a specific deal or set of alternatives.
Concessions
Negotiation is a process of bargaining by which agreement is reached between two or more parties. It is rare in negotiation for agreement to be reached immediately or for each side to have identical objectives. More often than not, agreements have to be worked out where concessions are given and received. This is an area where the profitability of the final outcome will be decided.
Strategy
Planning the strategy is important in procurement negotiation. Once the objectives are established, procurement professionals will need to work out how to achieve them. It is also useful to try and see the negotiation from the other party, and to gauge the likely strategy of the other party.
Step 3: Improve and Leverage Supplier Relationships
Supplier relationship management (SRM) can be critical to a business organisation, and this is done by systematising the procurement professionals' interactions with suppliers. SRM is an approach to work with critical and strategic supplier, so as to systematically identify opportunities to reduce cost, improve service and quality and innovate.
For most companies, establishing strong, mutually beneficial long-term relationship with a strategic supplier is a critical step to improve performance across the supply chain. This in turn generate greater cost efficiency and enable the business to grow and develop.
Supplier Relationship
Supplier Relationship management programmer can eliminate many costs. The strategic supplier to systematically identify opportunities to reduce cost, improve service and quality and innovate.
Establishing Relationship with Key Suppliers
An organization can achieve long term cost savings, as it develops the supplier gets to know more about the organization and the that enables them to increase the efficiency of their service. Order issue will be reduces, and in the event order issues do arise the strong relationship between organization and supplier will make simpler to solve the issues.
Technology as an Enabler
Using SRM technology enable procurement professionals to have full visibility into the supplier base, thereby giving a detailed picture of what is impacting the supply chain and making it easy to mitigate the risks.
Step 4: How to Become A Better Negotiator
The starting point is self-evaluation. If procurement professionals desire to be better at negotiating, they need to begin by staring at their own faults and skills right in the eyes. As the saying goes, it is difficult to change the behaviours of others, but a lot easier to change one's behaviour. Thus, it is important to understand one's own behaviour that requires changes and to develop it for effective negotiation.
Even though every negotiation is unique and requires its own solutions, there is a lot that one can learn from other people, trades and situations. Constructive discussions can enhance understanding of both parties, and mutual respect can be gained from understanding one another and getting new information on the negotiation table.
References:
Poh, Philip (1988), "Defining and Clarifying the use of Terminologies", International Federation of Purchasing and Materials Management conference, Brisbane.
http://www.esourcingwiki.com/index.php/An_e-Procurement_Primer#Core_Capabilities
https://blog.procurify.com/2014/09/16/stages-procurement-process/
https://blog.procurify.com/2013/09/23/all-you-ever-needed-to-know-about-purchase-orders/
http://www.purchasing-procurement-center.com/e-procurement-advantages.html