Warehouse are getting busier by the day as e-commerce companies gain traction in new and emerging markets. In Asia, particularly, the e-commerce boom has created a strong demand for more efficient warehouses, and logistics companies are turning to technology to build the next-generation storage spaces that can cater to this industry. What's interesting to note is that unlike other sectors, in logistics and warehouse, digital solutions that are making the biggest impact are those that leverage a combination of technologies rather than just one. Further, warehouses of the future, although physical in nature, are increasingly becoming digital, data-driven units.
Best of Breed Warehouse Management System
Technological revolutions in the warehouse and solutions can create more efficient warehouse operations. But the reality is, without a warehouse management system that can leverage these technologies, there is not much that one can do about warehouse productivity. Best-of-breed warehouse management systems are those that provide this level of functionality or at least an easy way to integrate with these technologies.
Three most important characteristics of a WMS that allow a business to benefit from technological advances that improve warehouse efficiency.
o Mobile Friendly
A mobile-friendly warehouse management system allows warehouse employees to work across a platform of mobile devices, from smartphones to tablets.
o Easy, Low-Cost Integration
No system has it all, and the ability to easily and cost-effectively integrate with other systems is one of the main characteristics that make best-of-breed WMSs so special. Look for a system that can easily integrate with other systems and technologies.
o Workflow & Process Oriented
In an industry where the flow of goods needs to happen fast and without errors, it's a challenge to keep things running smoothly.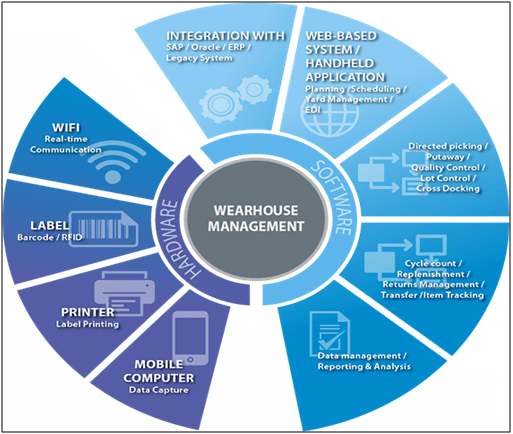 Aerial Drones for Accurate and Faster Inventory
Drones can help optimize warehouse inventory processes. The drones' technology quickly scans locations for automatized inventory. They can connect automatically to your WMS (if your WMS can integrate) to access your existing inventory information.
Aerial drones don't need markers or lasers for guidance. They use optical systems alongside deep learning technologies and computer vision to navigate warehouses. They also don't take up valuable space in your warehouse and aren't likely to get in the way of people or other robotic devices.
Drones can travel quickly to hard-to-reach and dangerous places. They can scan inventory both high and low much faster than a person and keep the most accurate count upload immediately to your WMS.
Wearable Mobile Computers & Barcode Scanners
This is a must for organizations striving to modernize their warehouse operations and increase warehouse efficiency.
Barcode scanners are at the center of an efficient warehouse. From receiving, to put-away, to picking, packing, sorting, and shipping, barcode scanners are no longer a nice-to-have, but a must-have.
The old barcode scanner is evolving into a more mobile, more ergonomic & friendlier device: the handheld scanner/computer. Solutions such as the wearable ring barcode scanner (see below) provide a hands-free benefit that allows warehouse workers to remain productive and mobile without having to compromise between picking cargo and holding the scanner.
Radio Frequency Identification (RFID) Technology
RFID or Radio-Frequency Identification" refers to a technology whereby digital data encoded in RFID tags or smart labels are captured by a reader via radio waves. RFID is like barcoding in that data from a tag or label are captured by a device that stores the data in a database.
RFID has taken away much of that administration effort, by allowing operatives to simply scan a pick face and enter picked quantities on a keypad. More advanced solutions even eliminate the data entry altogether, leaving the operative to concentrate solely on the actual picking. Scanning technologies have had a similar impact in other areas of warehouse operation, such as receiving, put-away, and dispatch.
Robotics is Changing the World of Warehouses
The workings of the modern factory would be awe-inspiring and bewildering to a 19th-century industrialist. The average warehouse might look reassuringly familiar. Manufacturing has been transformed by successive waves of innovation, from electrification to automation and digital technologies. One key attribute of the latest generations of technologies is that they don't seek to replace human workers entirely, but to support them in new ways. "The development of cobots that can work safely alongside people allows warehouses to add automation selectively.
References
Adam Robinson (2019). "7 Innovative Warehouse Management Technologies to Adopt". Retrieved from: https://cerasis.com/warehouse-management/, accessed 7/09/2019.
Hector Sunol (2019). "Technologies to improve Warehouse Efficiency"
Retrieved from: https://articles.cyzerg.com/3-technologies-to-improve-warehouse-efficiency, accessed 7/09/2019.
Helmi Salleh, ADLSM. (2019). "Autonomous Devices for Digital Warehousing" retrieved from SIPMM: https://publication.sipmm.edu.sg/autonomous-devices-digital-warehousing/, accessed 10/09/2019.
Jonathan Ward (2019) "How Robots is changing the world of warehouses" retrieved from http://www.delivered.dhl.com/en/articles/2019/04/robotics-changing-world-warehouses.html, accessed 09/09/2019.
Ruthie Bowles (2019). "Warehouse Robotics: Everything You Need to Know". Retrieved from https://www.logiwa.com/blog/warehouse-robotics, accessed 09/09/2019.
Shankar Kumar, DLSM. (2019). "Technologies more productive warehousing"
Retrieved from SIPMM: https://publication.sipmm.edu.sg/technologies-more-productive-warehousing, accessed 7/09/2019
Tech Wire Asia (2019). "How technology is making warehouses more efficient" Retrieved from: https://techwireasia.com/2019/02/how-technology-is-making-warehouses-more-efficient/, accessed 07/09/2019.