Practically there is no one-size-fits-all purchase process. Some organizations require a formal process to suit their complex environment, which is often the case in government or education. In those industries, vendors must comply with strict guidelines. Others, for enterprise businesses like heavy machinery parts, require a few key steps in an effort to manage budgets more effectively. Below is a picture of the parts and assemblies of heavy equipment.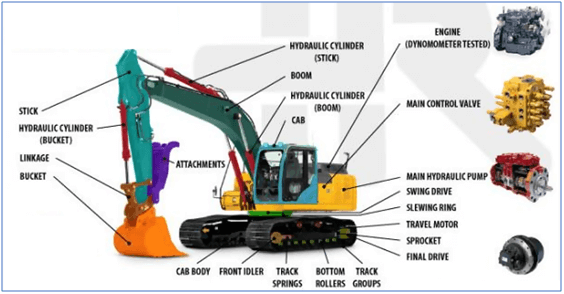 Following a proven step-by-step technique will help management successfully achieve its goals. Below is a diagram showing a typical purchasing process.
Step One: Requirement, need specification
End users are usually the person who involved in developing the specification. The specification is a document which clearly and completely describes the essential requirements of the heavy machinery parts being purchased. Examples of the specification are OEM part number, quantity, machine model and stock availability. It is the basis of all offers and is the foundation for the contract. The purpose of the specification is to communicate the buyer's requirements to potential suppliers and help the buyer to evaluate offers by providing a basis for comparability.
Step Two: Source Supplier
As a trading company for heavy equipment's spare parts, generally the firm purchase already-existing brands and products from its suppliers. A supplier is defined as an organization that provides a product or service to another business. Finding a reliable and competitively-priced supplier is vital to the success of your business. There are several common ways to search for new suppliers, such as browse through Official Manufacturer Webpages which typically provides a list of local/regional distributors. Others, such as participate Trade show like Bauma China for heavy machinery and diesel engine parts. A third best approach is to subscribe to a good trade journal or magazine where manufacturers tend to advertise their products and latest offerings.
Step Three: Qualify & Shortlist
The most effective suppliers are those who offer products or services that match or exceed the needs of the business. It is best to ensure that what the company buying can achieve its business needs, rather than simply paying for what suppliers offer to the company. These are the criteria to be considered during the qualification process, which is Reliability (Strong service and clear communication), Quality (requesting a sample), Value for money and Financial security (Longer payment term), a partnership approach (engage timely delivery and good shipment term such as Cost Insurance and Freight).
Step Four: Negotiation
For most distributors of engine components, the firm normally has two or three specified suppliers to supply particular items. The purchasing department will conduct price comparison for 2 or 3 selected suppliers based on pricing, shipping terms, and back order value. For instance, negotiation will take place for some supplier when the order value reached the supplier's specified total target amount, such as genuine supplier required USD100,000 to get 5% discount.
Step Five: Seek approval from Management
After the stage of price comparison, purchasing personnel needs the authorization to proceed with the selected suppliers – this could be multiple authorizations e.g. his/her supervisor, Purchase Manager, General manager and Finance head of the department. The purchaser in charged will request the selected supplier to fill in Vendor Evaluation Form which consists of supplier basic information, company and financial aspects, production and warehousing, and another supporting document such as Quality Management System and Dealership certification.
Step Six: Agreement & Contract
An agreement is an expansive concept that includes any arrangement or understanding between two or more parties about their rights and responsibilities with respect to one another. Purchase agreement for heavy machinery's parts may include information regarding the buyer and seller, including names, phone numbers, and addresses; contact information for any witnesses or co-signers; the type of sale and the product or goods involved; price and quantities for the sale; the date of the agreement and terms related to duration; terms for delivery and shipping (if applicable); dates covering the fulfillment of various conditions and requirements; whether the agreement can be amended or revised in the future; whether litigation is an option in the event of a legal dispute.
A contract is a specific type of agreement that meets certain requirements designed to create legally binding obligations between parties that are enforceable by a court of law. Every contract must include a specific offer and the acceptance of that specific offer. The requirement would be buyer send the order to the supplier, this act usually constitutes a legal offer to buy materials in accordance with the terms stated in the order; the agreement does not exist until the supplier accept the offer. The purpose of the contract must fall within the confines of lawful conduct. In other words, a court would never enforce a contract regarding something illegal.
References
Diffen. (2018). "Agreement vs. Contract". Retrieved from https://www.diffen.com/difference/Agreement_vs_Contract, accessed 27/03/2019.
Info Entrepreneurs. (2019). "Manage your suppliers and Supplier selection process". Retrieved from https://www.infoentrepreneurs.org/en/guides/manage-your-suppliers/, accessed 27/03/2019.
Legal Match. (2019). "Purchase Agreement". Retrieved from https://www.legalmatch.com/law-library/article/what-is-a-purchase-agreement.html, accessed 27/03/2019.
Medium. (2017). "Purchase Orders: What They Are, Why Use Them, and What To Do With Them. [New Data]". Retrieved from https://medium.com/@rubberstampio/purchase-orders-what-they-are-why-use-them-and-what-to-do-with-them-new-data-7c1cf7ce3dce, accessed 27/03/2019.
Tasmanian Government. (2019). "Developing the Specification". Retrieved from https://www.purchasing.tas.gov.au/buying-for-government/goods-and-services/purchasing-goods-and-or-services-$250000-and-over/planning-the-purchase/developing-the-specification, accessed 27/03/2019.
Techinasia. (2019). "10 Ways to Find Suppliers". Retrieved from https://www.techinasia.com/10-ways-find-suppliers, accessed 27/03/2019.
Tina Wong Woan Chuen, DPSM. (2019). "Five Essential Criteria for a Successful Procurement Contract" Retrieved from SIPMM: https://publication.sipmm.edu.sg/five-essential-criteria-successful-procurement-contract/ , accessed 27/03/2019.
Vivien Cheah Khar Wai, DPSM. (2019). "Six Procurement Best Practices for the Construction Industry" Retrieved from SIPMM: https://publication.sipmm.edu.sg/six-procurement-best-practices-construction-industry/, accessed 27/03/2019.
Work Zone. (2014). "7 Unbeatable (Process) Ideas for On-time Delivery". Retrieve from https://www.workzone.com/blog/7-unbeatable-process-ideas-time-delivery/, accessed 27/03/2019.