The storage of physical items until they are sold online is referred to as e-commerce warehousing. Warehousing includes safely and securely storing products, as well as tracking the locations items are housed, the date of arrival for good receipt, stock aging information with shelf life, reverse logistics policy and the quantity on hand at any given time. Online companies rely on efficient warehousing to sustain potential development in the e-commerce market, which is a highly competitive space.
A consumer should at least encounter one of such incidents such as receiving the wrong item, delayed missing shipment, damaged or defective items, etc. Because of the unfortunate occurrence that occurs to them, if Customer Care personal is difficult to contact, refunds or replacements are postponed, it is unlikely that customers will be happy or trust you again.
On the other hand, dealing with returned goods or reversed logistics as an e-commerce company owner could be aggravating and frustrating. However, if these complaints are not answered, e-commerce companies will be overwhelmed. Thus, we need to investigate on best practices in E-commerce warehousing.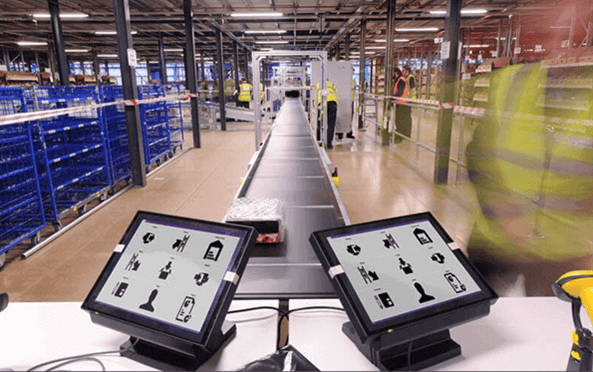 Integrating WMS with All Order Fulfilment Systems
A warehouse management system (WMS) is software that tracks and manages regular warehouse operations. WMS program assists in the most effective receipt, storage, picking, packaging, delivery, and replenishment of inventory. In fact, today's WMSs are effective tools to handle the challenges of Ecommerce operation process. This includes the shipping of several small orders that can be found in e-commerce.
WMS implementation allows the company to cut labor costs, boost product accuracy, increase flexibility and responsiveness, and reduce picking and shipping errors, all while improving customer service. Modern warehouse management systems use real-time data to enable businesses to keep track of the most up-to-date information on activities including orders, shipments, deliveries, receipts, and every other movement of goods.WMS will assist to create a more automated warehouse with less manual rework. In another words WMS acts as the backbone of ecommerce warehouse and will ultimately reduce inefficiencies and help grow the business.
Picking by Voice Technology
Voice picking is the simple and affordable e-commerce solution. Development of picking commissioning systems based on voice command technology is a logical step in optimizing these applications. The clear aim is to develop and increase the efficiency of the commissioning process by using new technologies. Pick by Voice technology fully replaces the previous system, which was based on printed documents. Pick by Voice can also be used in conjunction with regular barcode technology.
The benefits of voice picking include pickers have both hands free to work and are not distracted by paper sheets and/or scanner screens This not only reduces the risk of damaged goods and pick errors, it is typically up to 20% more efficient than scanner based picking for small order / single order line orders. Voice picking is extremely intuitive, resulting in a fast learning curve. The multi-lingual functionality allows warehouse orders to be spoken in the picker's native language, minimizing errors and ensuring customer-specific specifications are met.
Order Accuracy and Managing Returns
Fulfillment entails giving the consumer exactly what they want. Furthermore, accuracy does not suffer during peak seasons. Barcoding, shelving system automation, knowledge of best shelving and packaging practices, and other processes can allow a warehouse to eliminate the majority of errors or damage caused by handling, resulting in happy customers.
Effectively managing e-commerce returns can be tricky. This is partially due to the fact that customers value a flexible and simple return policy; however, a return policy that is too liberal allows for misuse and can cause company to lose money. When designing or reviewing return policy, it is important to look at recent statistics to compare return rates with net sales in order to find out who are the most and least profitable customers, as well as how often they return. This will help to determine whether free returns, store credit, or a variety of other options are the best way to achieve consumer loyalty with returns.
References
Lai Chee Long, DLSM.(2020)."Key Considerations  for Effective E-Commerce Fulfilment". Retrieved from SIPMM: https://publication.sipmm.edu.sg/key-considerations-effective-ecommerce-fulfilment/, accessed 17/03/2021.
Kristina Lopienski. (2021)."How to Maximize Warehouse Efficiency for Your Ecommerce Merchandise". Retrieved from https://www.bigcommerce.com/blog/ecommerce-warehousing/, accessed 17/03/2021.
Warehousing Solutions.(2018)."Best Practice Considerations for e-Commerce Warehousing". Retrieved from https://www.apsfulfillment.com/warehousing-solutions/best-practice-considerations-for-e-commerce-warehousing/, accessed 17/03/2021.
Keane Ng, DPSM. (2020)."Key Considerations  for Digital Warehousing". Retrieved from SIPMM: https://publication.sipmm.edu.sg/key-considerations-for-digital-warehousing/, accessed 17/03/2021.
Sazali Salleh, PDWM.(2019)."5 Best Practices for an Effective Warehouse". Retrieved from SIPMM: https://publication.sipmm.edu.sg/five-best-practices-effective-warehouse/, accessed 17/03/2021.
ITS logistics.(2021)."Ecommerce Returns and Returns Management". Retrieved from https://its4logistics.com/fulfillment-services/ecommerce-fulfillment/ecommerce-returns/, accessed 17/03/2021.
Michael Badwi.(2020)."What to look for in an eCommerce Warehouse Management System". Retrieved from https://www.scjunction.com/blog/what-to-look-for-ecommerce-warehouse-management-system?hs_amp=true/, accessed 17/03/2021.
DSV.(2019). "How voice picking grows your e-commerce". Retrieved from https://www.nl.dsv.com/en-gb/expert-insights/how-voice-picking-helps-you-grow-your-e-commerce-activities, accessed 17/03/2021.