Many businesses recognize the value and benefits of digital procurement, but they may lack the necessary understanding before implementing it. As a result, internal disagreements may arise throughout the transformation process, which is an initial obstacle to adopting procurement digitalization. The procurement process should be simplified to improve data visibility, save cost, and reduce risks. If procurement managers do not adequately manage risk and have a well-planned strategy, the organization may face major issues. Most companies do not have reliable real-time data, information, or a well-defined procurement strategy. This might disrupt service and product supply chains, as well as reduce efficiency in evaluating new vendors. Another challenge that companies may encounter during digital transition is network security, as they may be subject to cyber-attacks.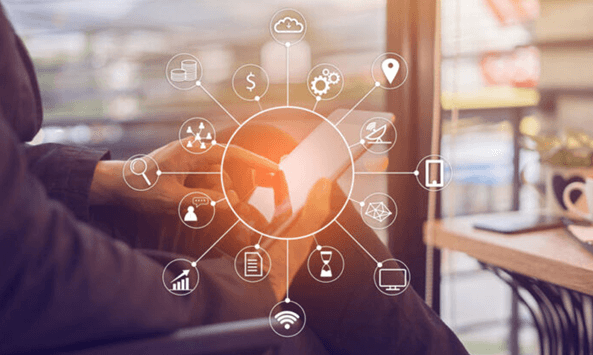 Implementing Digital Procurement
The implementation of digital procurement requires a cross-departmental and decisive organizational structure. The full support of senior management is critical to the success of the implementation. It would be difficult to develop an organizational structure capable of supporting the transition if the leaders are not equipped with the necessary skills and understanding of the use of procurement technology. Furthermore, resolving any conflicts of interest or administrative barriers that may arise throughout the transition process would be tough. Additionally, making the wrong selection when it comes to selecting proper digital procurement products and solutions can result in increased expenses and decreased efficiency. Hence, well-planned systematic training is critical in equipping personnel with basic awareness of the procurement process. Employees must also have a thorough grasp of the new system for greater productivity. Effective communication is necessary at all phases of the project to reduce misunderstandings and maximize productivity gains.
Choosing Accurate Data for Procurement Strategy
A well-planned digital procurement strategy may help to reduce mistakes, enhance savings potential, prevent unnecessary spending, and ensure organizational policy compliance is met. Problems will develop if the organization does not have a comprehensive and well-planned procurement strategy. As a result, financial losses and supply chain disruptions will occur. Leaders must be able to choose a strategy that focuses on obtaining a variety of quantitative goals. Digital procurement must be capable of identifying possible risks in the supply of important items or services both internally and externally. Managers should be able to analyze data based on the circumstances and allocate resources to mitigate risks when needed.
During the implementation stage, most firms do not have a comprehensive plan in place to enhance visibility and real-time data capture. It would be difficult to predict their procurement expenses if the information inside the supply chain is inaccurate or unavailable. If the company is unable to create an accurate purchase forecast, its cash flow will suffer and there may be supply gaps or excess inventory. Data visibility and dependability across the supply chain are critical tools for meeting regulatory obligations and managing risk. Leveraging technology can assist firms in delivering better quality services with reduced costs, hence resulting in a more complete perspective of the supply chain.
Selecting Vendors as Potential Suppliers
One of the most difficult aspects of digital procurement is selecting the right vendors. This is a crucial step since it will determine the organization's approved vendor lists for the purchasing department. Companies will be able to correctly examine and evaluate suppliers more accurately. During the process, the organization will be faced with an abundance of data sources that are available on the web. Most businesses are solely familiar with local vendors, not to mention the fact that they may have little to no background information regarding overseas suppliers' business activities or financial situations. Once an order has been verified with a supplier, the organization must keep track of the vendor's output and follow up on it. This is done to ensure that the items or services given are always available and of high quality.
Suppliers that do not meet the customer's expectations and standards should be avoided at all costs. It is also critical for the company to guarantee the quality of the vendor's operations, otherwise, the company may risk losing its reputation. Also, businesses should uphold their ethical, quality, safety, and environmental requirements. Another issue in the supply base is the lack of transparency. A multi-layered supply chain indicates that a single product might come from hundreds of different vendors. This might put the company at risk of financial loss as a result of the manager's negligence or misjudgment in selecting the incorrect supplier. In this case, the company should implement a risk management strategy. This is accomplished by doing a vulnerability assessment in each risk area. They should define each circumstance in which the vulnerabilities arise, as well as the likelihood of occurrence and the method for dealing with them. One way to avoid such risks is using reliable internet platforms such as Alibaba for the selection process. These platforms would have conducted background checks on the different companies on our behalf. This is especially useful for local companies as they run checks on those foreign vendors that they are unfamiliar with. Alternatively, companies can conduct vendor audits after the selection process.
References
Bobby J.Davidson. (2017). "How Technology Is Changing Procurement". Retrieved from https://percentotech.com/bobbyjdavidson/procurement-technology/, accessed 19/03/2022.
Chit Ngu Wah Christina, DPSM. (2020). "Essential Criteria to Evaluate Construction Supplier". Retrieved from SIPMM: https://publication.sipmm.edu.sg/essential-criteria-evaluate-construction-supplier/, accessed 19/03/2022.
Daniel Weise. (2019). "Digital Risk Management in Procurement". Retrieved from https://www.linkedin.com/pulse/seeing-whats-come-digital-risk-management-procurement-daniel-weise, accessed 19/03/2022.
Elsa Zhang Chun Hao, DPSM. (2019). "Mitigating the Risks of Global Sourcing". Retrieved from SIPMM: https://publication.sipmm.edu.sg/mitigating-risks-global-sourcing/, accessed 19/03/2022.
Lee Meng Yin, DPSM. (2020). "Mitigating Global Sourcing Risks in a Pandemic". Retrieved from SIPMM: https://publication.sipmm.edu.sg/mitigating-global-sourcing-risks-in-a-pandemic/, accessed 20/03/2022.
Liong Sze Pei, DPSM. (2020). "Fraud Prevention Strategies for Construction Procurement". Retrieved from SIPMM: https://publication.sipmm.edu.sg/fraud-prevention-strategies-construction-procurement/, accessed 20/03/2022.
Melvin Yeo Tu Chin, DPSM. (2020). "Cybersecurity Risk Mitigation for Digital Procurement". Retrieved from SIPMM: https://publication.sipmm.edu.sg/cybersecurity-risk-mitigation-digital-procurement/, accessed 20/03/2022.
Sam Steers. (2021). "Five common challenges faced by the procurement industry". Retrieved from https://procurementmag.com/procurement-strategy/five-common-challenges-faced-procurement-industry, accessed 20/03/2022.