Inventory control and planning are most important to organizations. They assist them to determine the accuracy of data, and allow them to know their storage, product distributions, forecasting meeting customer's needs and wants. If an organization operates without using the right way techniques for its inventory management, it might be having a high risk of shortages, overstocking, damages, or obsolete stocks. With good planning techniques and inventory control, companies can manage their inventory strategically. Concurrently, they can avoid wastages, improve productivity and predictability while achieving their business goals.
Just-In-Time (JIT) inventory
Just-In-Time (JIT) inventory system is the management strategy that increases efficiency and productivity in manufacturing workflow. It targeted to reduce flow times and costs to the distribution of materials. Otherwise known as Kanban Scheduling for (JIT), it is a scheduling system used in lean manufacturing. The developer is an engineer from Toyota, named Taiichi Ohno, who developed this system which helps to improve manufacturing efficiency and streamline their processes.
The Just-In-Time inventory management strategies help manufacturers to hold sufficient inventory to absorb the maximum volume in market demand. At the same time, it also helps them to minimize costs in their purchase of raw materials. They can store sufficient resources to manufacture without holding excess materials. The JIT production concept develops production consistently with high-quality Workmanship and reliable suppliers without machine breakdowns.
ABC Inventory Analysis
ABC is a stock management technique that is primarily based on placing merchandise into classes in order of importance. There are lots of inventories in a warehouse and it is not possible to deal with all objects at the same. The Pareto precept is used to classify the items into three core categories. It is primarily based on the 80/20 rule, the regulation of the crucial few, which states that 20% of the items take up 80% of the value to identify the huge opportunities to fulfil the company's sales order.
A-items are products of the highest annual consumption value. The top 70-80% of the annual consumption cost of the company's inventories. These products need to be monitored closely to maintain a sufficient stock level due to high sales forecast. B-items are products with a medium consumption value. They are about 15-25% of the annual consumption price at 30% of the company's inventories. The demand must be monitored as may need to be either shifted to A when the demand goes up or C when the demand goes down. C-items are products with the lowest consumption value. They are about 5% of the annual consumption cost of the company's inventories with little replenishments required.
Economic Order Quantity Model
Economic Order Quantity is a formula used to calculate the ideal order quantity for an organization's inventory control. It is based on variables such as production costs, demand rate, and some other factors. EOQ is a method for determining the optimal order volume level for stock to be ordered at a single time. It is also a method for determining the most cost-effective number of products to order so that carrying costs may be kept to a minimum. Wherever possible, a firm should place advantageous orders, which are order volume neither too huge nor too little.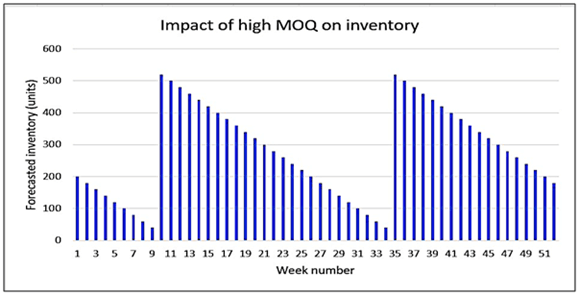 Not all e-commerce sales are created equal and not all businesses understand the seasonality of their operation. As a result, the retail wholesales holiday surge which occurs at a different time than the direct consumer holiday surge must be considered. Warehouses that handle Business-to-Consumer (B2C) orders may have the most labour demands during certain periods, such as the peak season. When one understands seasonality, it is possible to avoid the inconvenience of re-hiring and re-training personnel to utilize the common labour pool.
Safety Stock Inventory
Safety stock level is one of the most basic forms of inventory management. It helps organizations to prevent instances of stockouts while avoiding possible losses in revenue, customers, and market share. This inventory management technique requires the company to gather data from its sales cycles, customer buying patterns, and seasonal sales fluctuations. It also requires the variability in lead times of raw materials for manufacturing. It involves the identification of a small, surplus amount of stock to keep on hand. This is to safeguard against the inconsistencies in market demand. It helps to protect the supply against unexpected spikes in demand. It also compensates for inaccurate market forecasts and acts as a buffer for longer-than-expected lead times.
First-In-First-Out (FIFO)
FIFO is a method way to check inventory value. This is by using the newest stock to fulfil orders for most retailers. Allocating the newer stocks at the back of the shelves, this approach can help to clear the older stocks. Doing so will reduce costs and prevent wastages. This method is also applying to both the accounting department and warehouse inventory management where the valuation method is used. For an organization's financial statements, reality should be reflected as accurately as possible.
Cycle Counting
Cycle Count inventory is a continuous inventory control method that allows the company to check on a subset of inventory regularly. It helps the company to have a more accurate inventory balance and prevent downtime. It also allows the company to have better internal control over the inventory and rectify the possible errors immediately. On the other hand, the practice of cycle count provides valuable data for the company to review the inventory that should be scrap or dispose of. This is to reduce storage costs and improve the net book value.
References

Business Jargons. (2021). "Three-Bin System". Retrieved from https://businessjargons.com/three-bin-system.html, accessed on 18/09/2021.
Chong Yaw Wen, DPSM. (2019). "Essential Techniques for Inventory Control of Laboratory Equipment". Retrieved from SIPMM: https://publication.sipmm.edu.sg/essential-techniques-inventory-control-laboratory-equipment/, accessed on 18/09/2021.
Lyn Chong Mei Ai, DPSM. (2020). "Essential Techniques to Manage Food Inventory". Retrieved from SIPMM: https://publication.sipmm.edu.sg/essential-techniques-manage-food-inventory/,accessed on 18/09/2021.
Maureen Chin Hui Mei, DPSM. (2021). "Important Techniques to Control Food Inventory". Retrieved from SIPMM: https://publication.sipmm.edu.sg/important-techniques-control-food-inventory/, accessed on 18/09/2021.
Nur Afiqah Bte Ismat, DPSM. (2020). "Common Techniques for Planning and Controlling Inventory". Retrieved from SIPMM: https://publication.sipmm.edu.sg/common-techniques-planning-controlling-inventory/,accessed on 18/09/2021.
Sunil Hegde, DLSM. (2020). "Six Inventory Control Techniques for the Printing Industry". Retrieved from SIPMM: https://publication.sipmm.edu.sg/six-inventory-control-techniques-printing-industry/,accessed on 18/09/2021.